Bob Lorenz's Schmidt-Rubin's and Accessories
Bob is a contributor to the Swiss Rifles Forum and a member of the Swiss Rifles mailing list. He recently sent me a number of pictures, and provided my with enough leads to allow me to track down a potential source for No-Gunsmithing Scope Mounts for K31 Carbines (See Below.) In addition to rifles, Bob also collects other Swiss Militaria and Ammunition. The pictures he sent while be invaluable for the 7.5 Swiss ammo page I intend to put up soon.

Bob's 1889 Schmidt Rubin

Another sporterized Model 1889 Schmidt-Rubin. Unlike Tom Allen's, this one has a barrel band, with a front sling loop, a different shape forend, and the rear sight appears intact.
In Bob's word "What can I say...what a shame, but it does shoot cast bullets great."

Bob's 1869/11 Target Rifle

"Here is the 96/11 that I made into a NRA match rifle, I am sorry I did this to the rifle now, but at the time these rifles were very easy to
come by. Shoots great, close ups are of the mount and front sight. Olympic rear and Tompkins front."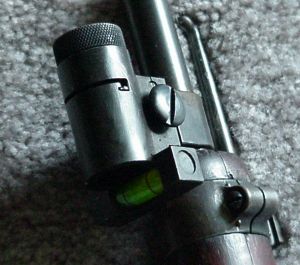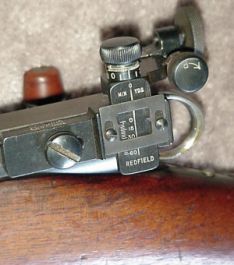 Front Sight Rear Sight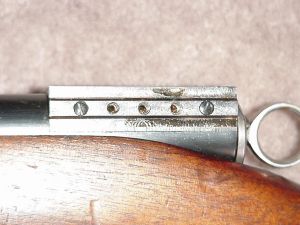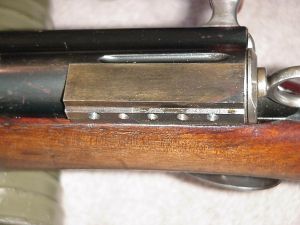 Two views of the rear sight mount rail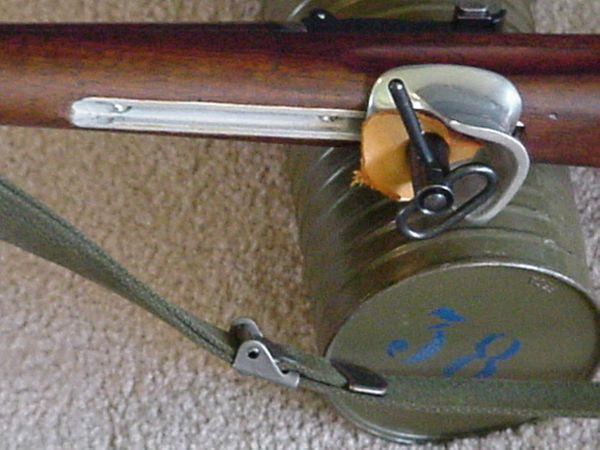 Front accessory rail and hand-rest

Bob's 1911 Carbine and Accessories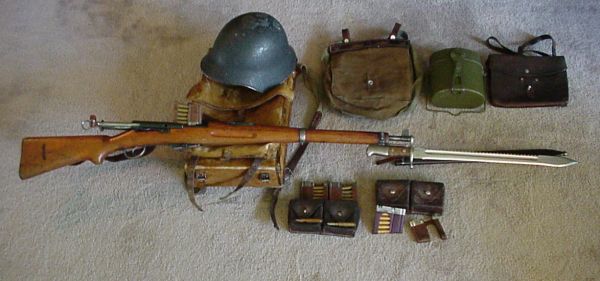 Top Row Helmet (without cover), Bread Bag, Mess Kit, and Dispatch bag
Middle Row: 1911 Carbine, Monkey Bag, and Model 1914 Bayonet
Bottom Row: Ammo Pouches and Stripper Clips
(Note: The Violet Clips were used to hold Lead Clad Steel Bullets)
Bob's 1911 Rifle and Accessories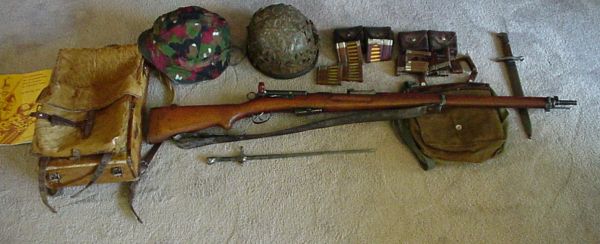 Top Row: Swiss Helmet, Swiss Paratrooper Helmet, Clips and ammo pouches, 1889/11(?) Bayonet (matching numbers with rifle)
Middle Row: Manual, "Monkey Pack", 1911 Rifle, Bread Bag
Bottom: Cruciform Bayonet - issue to Bicycle Troops and Machine Gunners
"The hairy pack the Swiss call a "monkey", Swiss humor. My friends father in the 1950's had a choice of this pack or the newer canvas pack, he chose the monkey."
Bob's K31 and Sights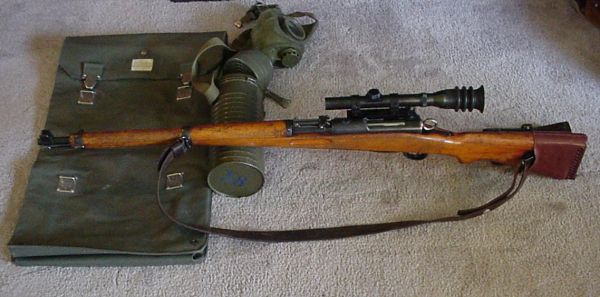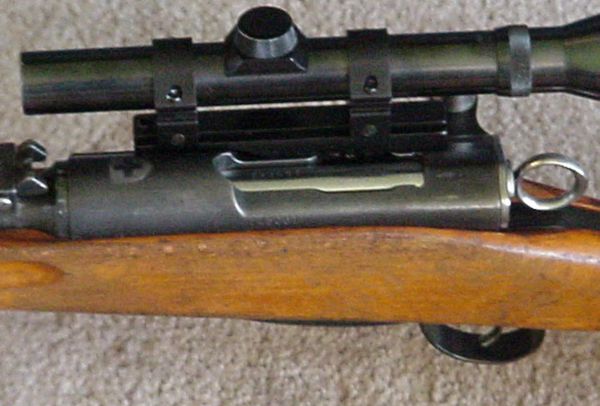 "As you can see my K-31's stock is pretty scarred up, but the inside of the barrel is like new and it shoots extremely well. I would take the
scope mount off and put the target sights from Feinwerkebau on but I have the mount loctited on and sighted in, for the upcoming Elk hunt.
The green bag is a clothing bag that the recruit soldiers can send home to Mom to have their laundry done, then it is shipped back to the
recruit postage free both ways. The canister is a Civilian gas mask can and the gas mask is behind it, I understand the military mask looked the
same. I put the rubber but pad on the rifle to lengthen the length of pull for me, a plus to this is, the rifle fits me better and there is
almost no felt recoil. "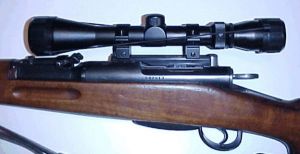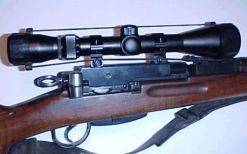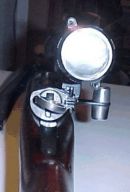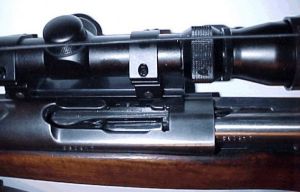 The Images above of of a No-Gunsmithing Scope mount made in Germany. The EAW Quick Loc mount can be purchased from New England Custom Guns, although they have to be ordered from Germany, and will cost somewhere between $250-300 for mount, rail and rings.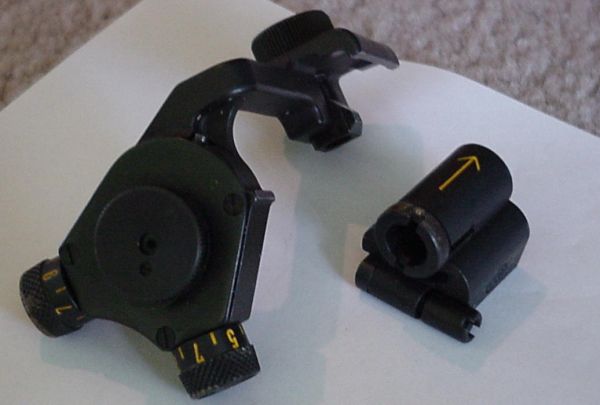 "The other sight is the target sight that fits on to the k-31. I may be wrong about Feinwerkebau making this sight it has the F + W on it but
that is a Swiss armory mark if I can remember correctly... "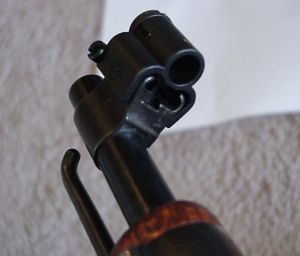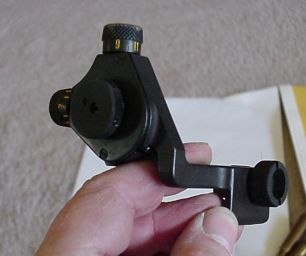 Thanks Bob...Great Pictures!!!
Return to the Schmidt-Rubin Page